Side Hustler in Singapore: Crochet Artist
by Wei Ying  February 11, 2023
Six decades ago, in the '60s, a crochet boom popularised crocheted clothes and accessories. Now, this thing of the past has risen to popularity again, with many picking up this intricate craft. Talk about making a full circle!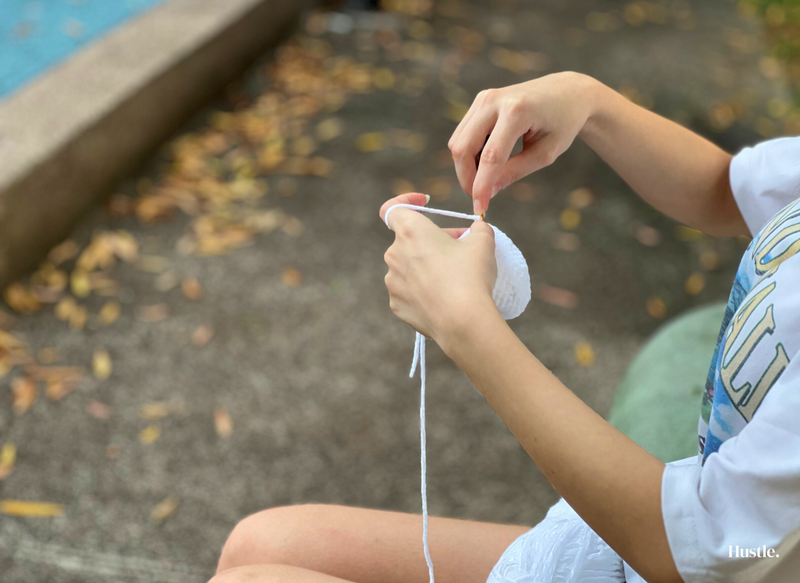 For Chloe, a student who is side-hustling as a crochet artist, it's less about clothes and more about adorable-looking toys. Here's her story on how she mastered her craft and became quite an overnight sensation on Instagram.
How did The Crocheting Phroggi come about
C: After my 'O' levels in January 2022, I picked up my first yarn and hooks while I was having my long holidays. The inspiration came from the many TikTok videos by talented crochet artists who posted their incredible works. Hence, I wanted to try it out myself.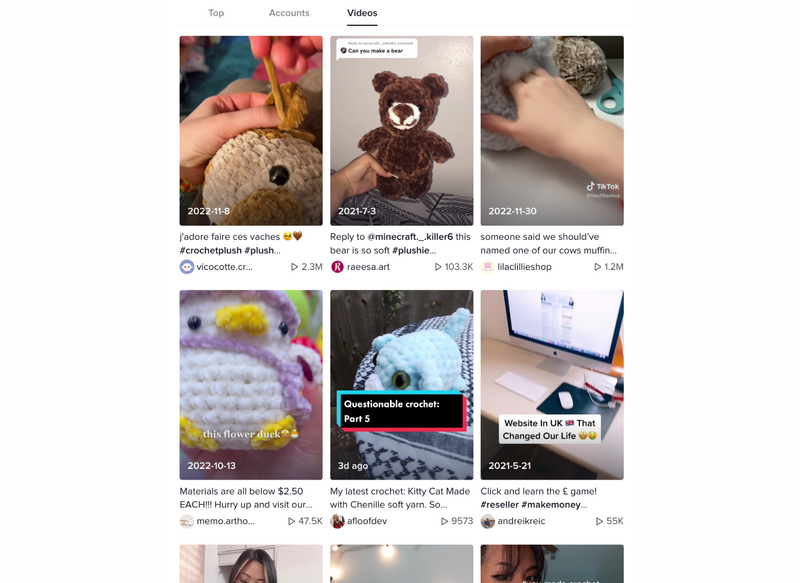 Did you turn to online tutorial videos, physical workshops, or perhaps, you had a mentor?
C: I am proud to say that I am entirely self-taught! YouTube videos were of tremendous help to me in my crocheting learning journey. My first-ever project was a pink frog amigurumi using a tutorial by Toristory Creations on YouTube. It taught me the few basic stitches used in a typical amigurumi, and they were the main ones too.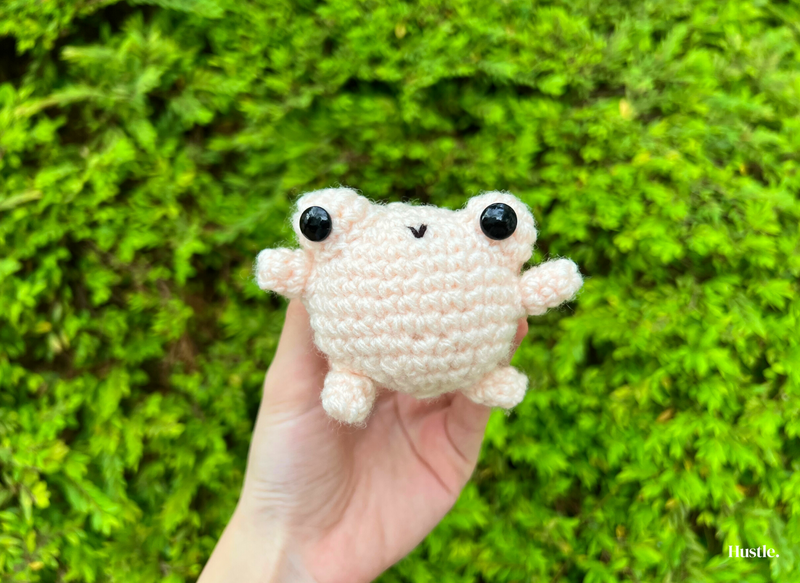 The constant repetition of the same stitches helped me perfect my technique, and I quickly got the feel of the general motion. As a result, I managed to pick up crocheting faster than expected.
What is it about it that you love?
"As with learning any other skill, it was hard to get the hang of crocheting at first! "
C: I realised I had a natural flair for crocheting as I could already create decent works after two weeks of practice. Something was soothing and therapeutic about it. The repetitive movement of the hook weaving its way through the yarn as my work takes form constantly provides me with a sense of calmness. Time would get away from me whenever I worked on a new project.
What is your most memorable order to date and how frequently do you get orders?
C: It has got to be by an Australian customer who ordered a Nebula Cow and two Baby Yodas! It was my first order, which amounted to over a hundred, and I can still remember how proud I was of myself for having come so far.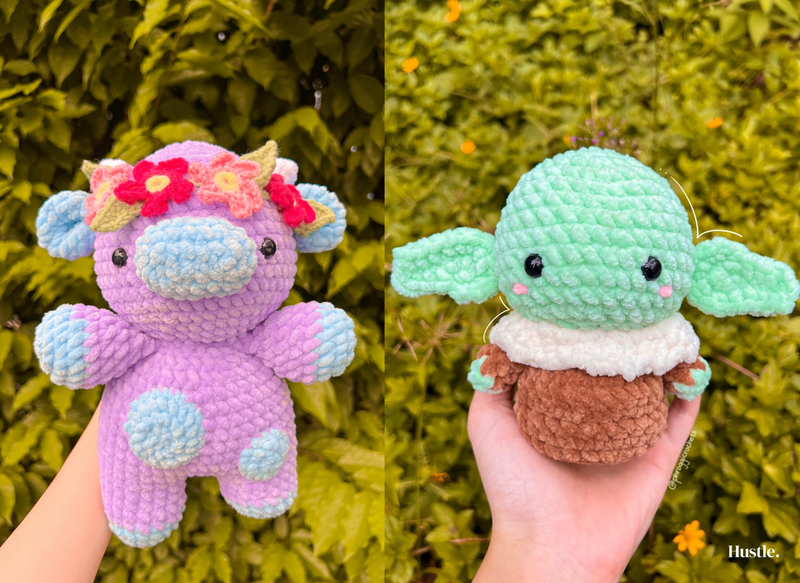 What does your schedule look like and how are you able to juggle the two?
C: Once school started, I would usually crochet at any opportunity I got. I would crochet during car rides and even while taking public transport! 
Unfortunately, crocheting has become a chore rather than something I enjoy the longer I struggle to maintain my social media presence and keep up with the posting schedule. Thus, I have decided to take a break to get back into the right mindset before resuming crocheting. The last thing I want is for crocheting to become something I dislike doing!
Are you currently a one-woman team?
C: Yes, I am! It is a challenge to juggle production and marketing for The Crocheting Phroggi. I have resorted to pushing myself to make new products for posting purposes so I can take photos of my finished pieces and adhere to my posting schedule.
Did you face any difficulties along the way?
C: Surprisingly, setting up The Crocheting Phroggi was not much of a challenge for me. As I had no intention of setting up a small business out of this, I was not worried about reach or the number of followers I had.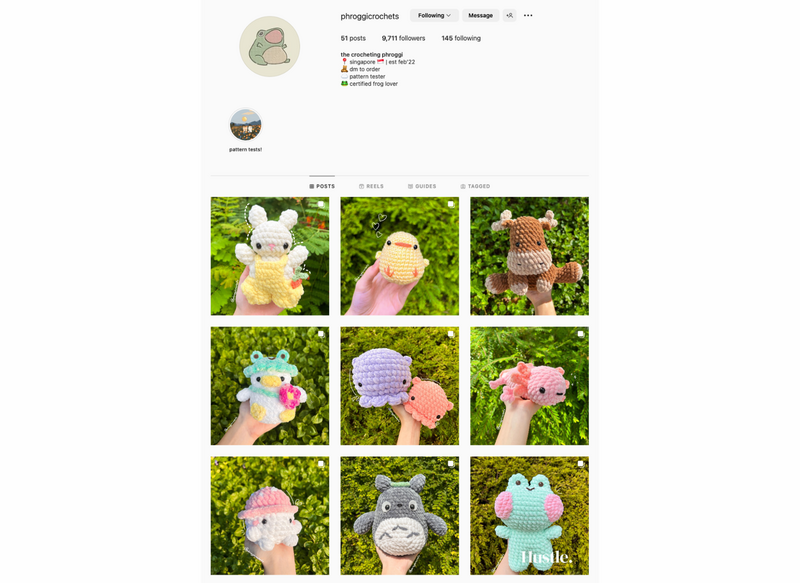 However, my account grew relatively fast, and before I knew it, I was caught up in the number of likes and followers number. It was then that I started feeling the pressure of maintaining those numbers while constantly analysing my growth and statistics.
As I approached project week in the polytechnic, the biggest challenge came when I had to juggle crocheting and school. I was overwhelmed by the number of responsibilities and eventually decided to take a break from my account to focus on my assignments.
"The crochet market in Singapore is still developing and is small compared to other markets. However, I think there is still an active demand for crocheted items, especially gifts and decorations."
How are you growing your side hustle? What are your future plans?
C: Growing The Crocheting Phroggi has proven to be a constant grind. Due to the Instagram algorithm, taking a break is as good as halting your reach and engagement rate. Based on my experience, I realised that frequent postings and interactions with my followers and other crochet artists are effective ways to grow my account. In addition, I had done some research on making IG reels and TikTok videos but have not dabbled in them.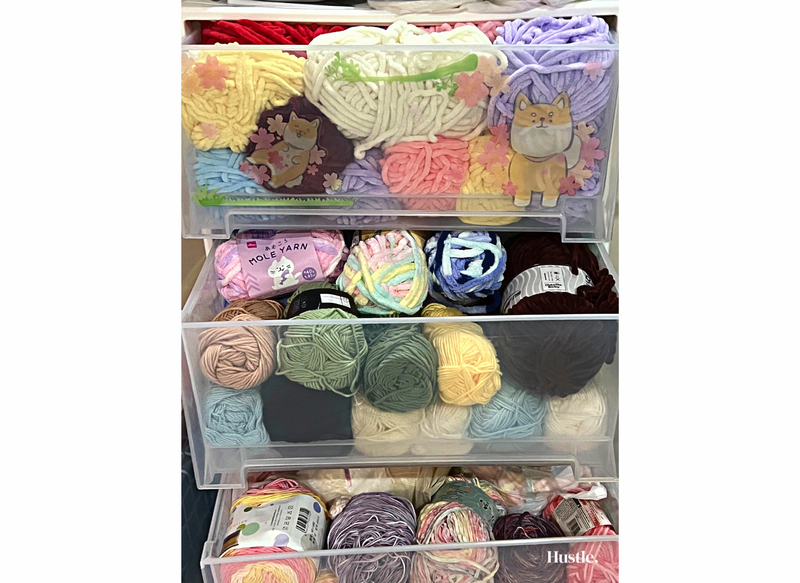 As for the future of The Crocheting Phroggi, I am not too sure about it too. Considering the number of hours required to crochet, I do find it tough to maintain a regular posting schedule that would allow me to achieve the highest reach. Hence, I intend to continue taking a break until I feel the spark for crocheting again.
What is one skill you'd like to pick up that you think would benefit the business of The Crocheting Phroggi?
C: It would probably be creating aesthetic or creative videos for IG reels or TikToks. Previously, I have attempted to curate such videos, but I never quite had the creativity to innovate original and funny videos that could potentially go viral.
"I think that if I were to have video curation skills, I would have been able to grow my account much faster."
First off, good on you Chloe, for staying true to yourself and making the bold decision to temporarily stop your side hustle till you regain that spark to crochet again. Many of us have the misconception that one should always be motivated to run our side hustles. But let's face it, we are just humans! As time progresses, the initial motivation and drive would fade. At this point in time, it is perfectly all right to take a break and reevaluate what your next steps would be.
Being self-aware is also a good trait that many of us shockingly lack. Chloe, on the other hand, is an exception. Although there are plenty of opportunities to pick up video curation skills for IG and TikTok, do not dwell on things for too long, or one might miss the window to capitalise on them.
So Chloe, have your well-deserved break, and I am sure you'll bounce back stronger!