Side Hustler In Singapore: Hawkerpreneur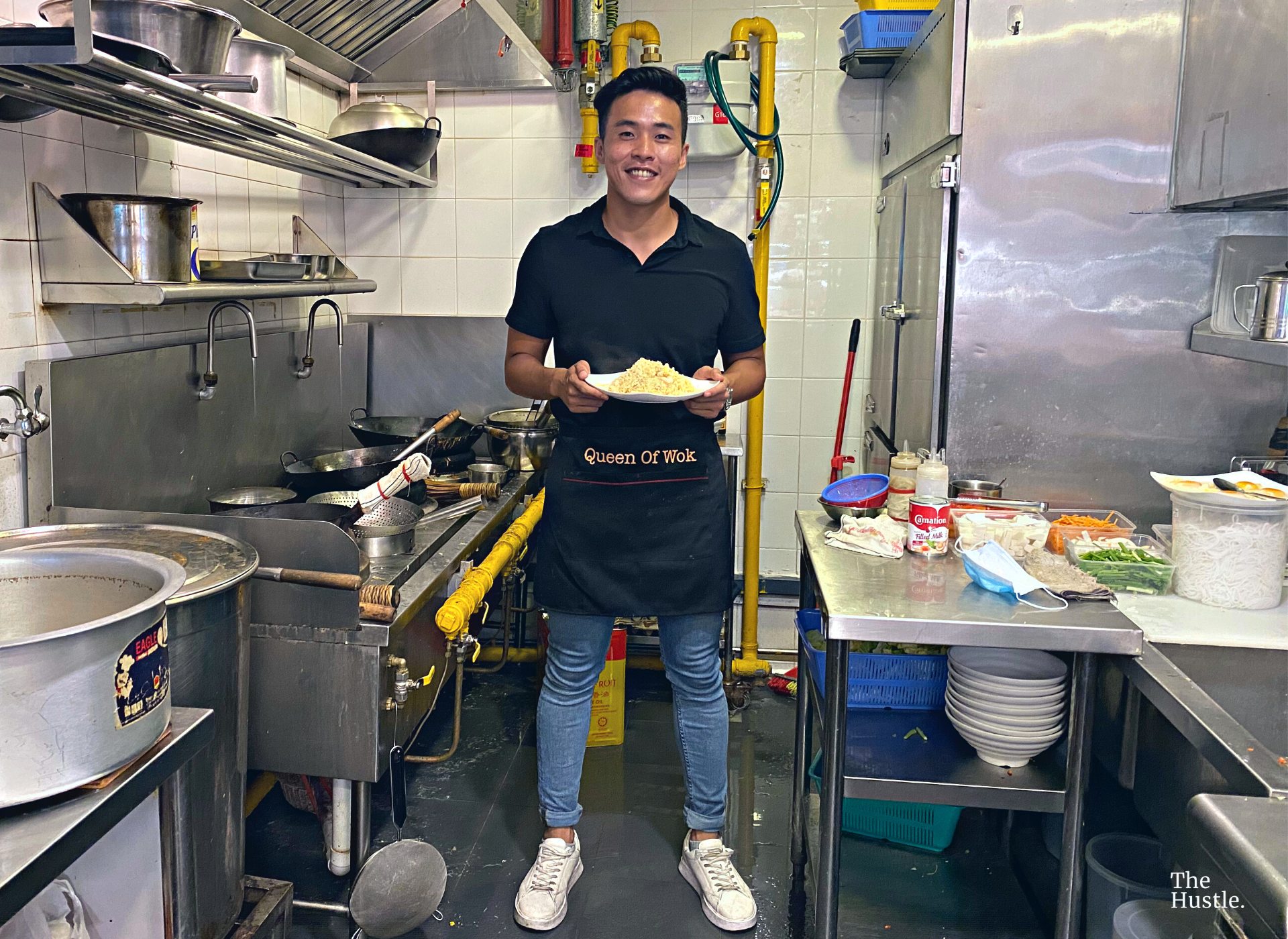 With fifty dollars left in your bank account and having to live on suan la fen for two months straight, would you still chase your dream?
Well, Geliang chose to stick it out and it certainly did pay off. He now owns, his own recruitment firm, Nomad, and an express Tze char store, Queen of Wok at Great World City. One can probably say that Geliang has lived it all, including testing the limits of his stomach lining with that much numbing spice from those noodles.
Geliang is a 27-year-old full-time headhunter, who got hurled huge lemons, hit absolute rock bottom, and bounced back — hard. Here is his rocky road to success, but it is every bit inspiring.
I got evicted of my house at the age of 16 and couch surfed at a lot of my friends' houses.
Did you have to deal with any hardships in order to reach where you are today?
G: Yeah, there were. Due to financial difficulties, I got evicted out of my own house at age 16. I relied on couch surfing at my friends' houses to get by.
I am very grateful that I could count on so many good friends and luckily all their parents liked me! It was really tough when I witnessed what I was missing out on in my own family when I saw how my friends' families functioned.
I borrowed $30K but made zero dollars in the first seven months. When September hit, I was down to my last $50. At that point, I was constantly asking myself if I should give up.
Setting up Nomad in 2020 was not an easy one. I took a loan of $30,000 to start Nomad. All of which were funded by my close friends and family. For the first seven months, I made zero dollars, and it was incredibly difficult.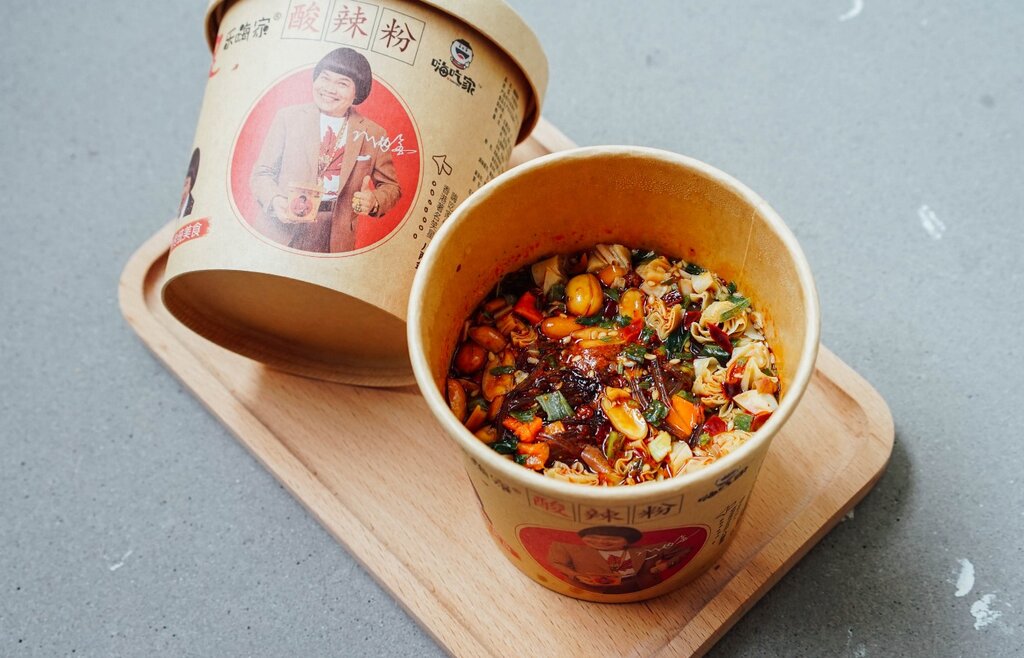 In July and August of 2020, I lived off suan la fen. My family members were selling it, and so was I, but I was also eating it because I had not enough money.
The month of September that year will always hold a special place in my heart because I was down to my last fifty dollars in my bank account. Thankfully, my luck started picking up during that fateful month as there were more successful matches between my clients and candidates. Money then started coming in.
By October, I was green. I paid off my loans with interest, and I quickly managed to rent a place for myself. The entire process was mentally torturous for me because I had a lot of self-doubts when things went south.
How did Nomad come about?
G: I led a nomad's lifestyle for 2 months, where I did a solo trip to countries like Cambodia, Thailand, etc. During the trip, I got the idea that I wanted to work remotely while still excelling at what I do, which is headhunting. Hence, I married the two and here we are two and a half years later.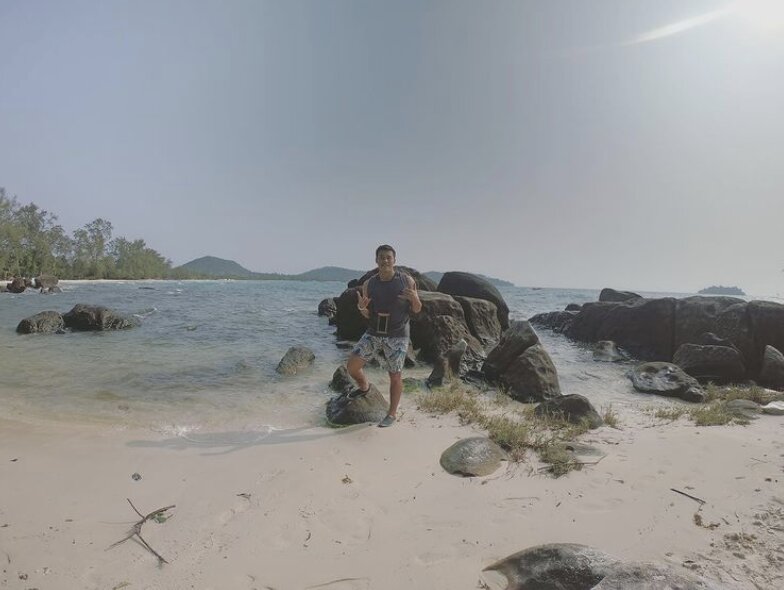 With things picking up, Geliang's risk appetite also grew and it eventually landed on his family's business.
How did Queen of Wok come about and when was it established?
G: It came about during the midst of the pandemic. My family used to run a restaurant under the name of Whampoa Keng Food Street for around 17 years. Since June 2020, our main restaurant at Rangoon road now operates under the rebranded name of Queen of Wok, and my aunt manages it.
Our express outlet at Food Junction of Great World City is a joint venture between my close friend and me.
It was evident that Geliang was not one who shied away from risks even when others would.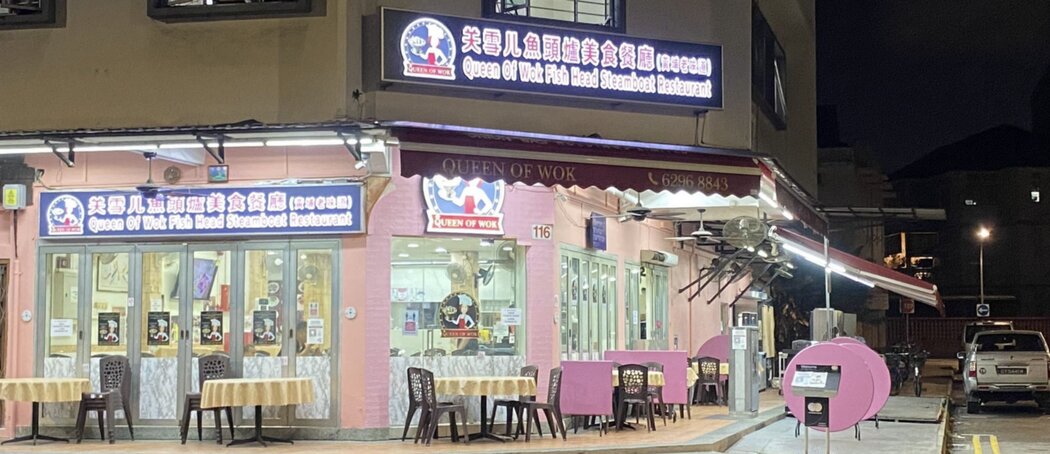 "I had a millennial mindset that small-scale ventures could work. Since no one was keen, I decided to take on the challenge."
G: Traditional charcoal fish head steamboat has been around for decades, but we had the idea of introducing charcoal fish head soup to become a fish soup staple.
However, none of my family members was keen on executing this idea as they assumed that a small-scale Tze char store could never work. They were discouraged because all the major players in the industry were running restaurants on a larger scale.
(With a chuckle,) Despite this, I still decided to throw caution to the wind as I believed in the idea of an express store. Thus, I roped my friend in on this idea, and here we are today.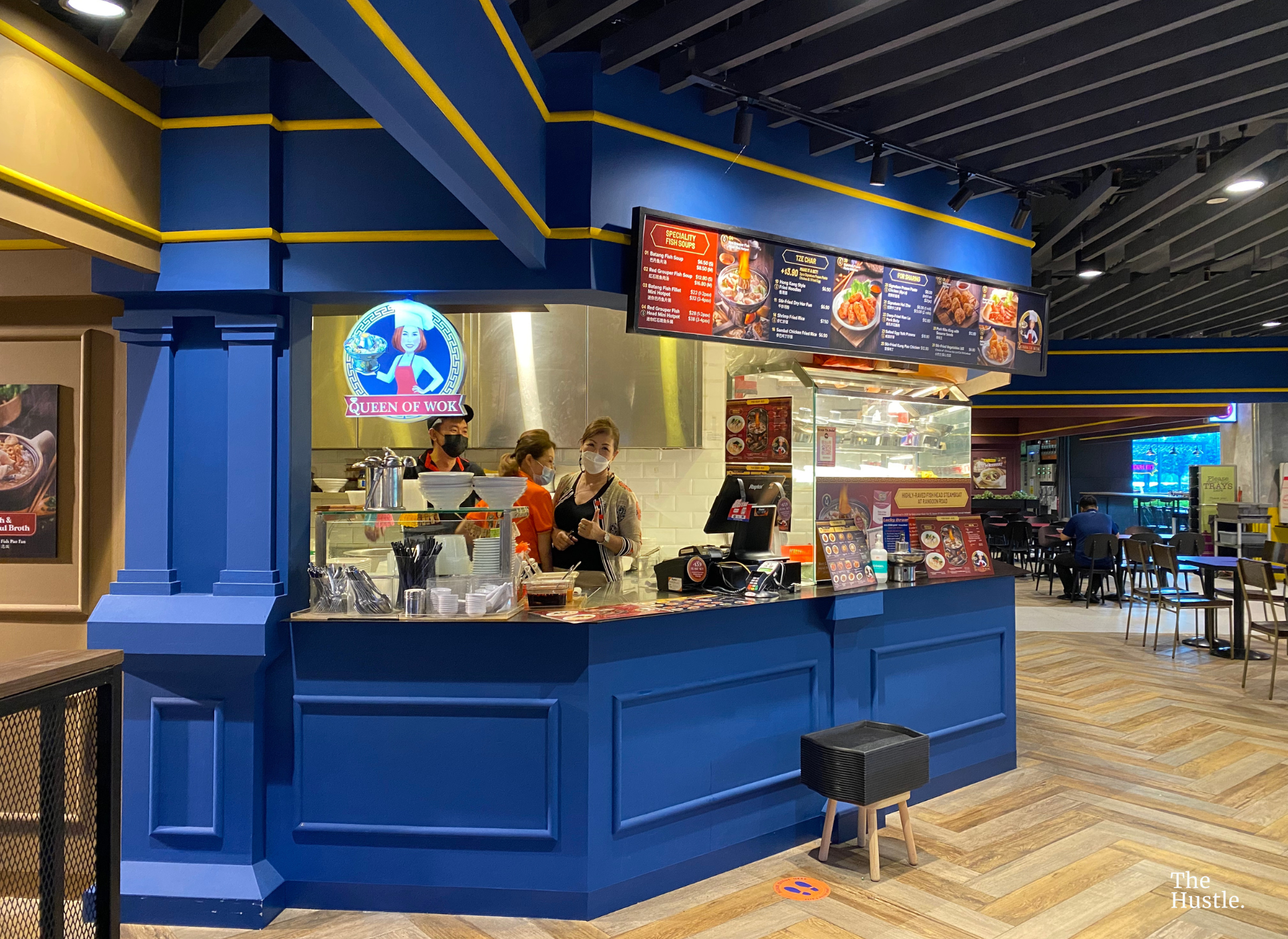 Essentially, the outlet at Great World City is more of a proof of concept for experimenting if an express Tze char store could work.
What is Queen of Wok's speciality?
G: It has gone to be the charcoal fish head broth! Having the element of charcoal as part of the cooking process gives our broth a unique and smoky flavour.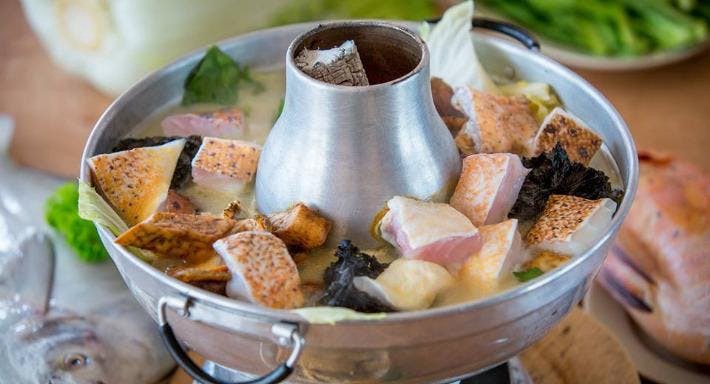 What is on the plate for Queen of Wok now?
G: I am very blessed to work with Green Rebel, one of the leading plant-based wholesalers in Indonesia.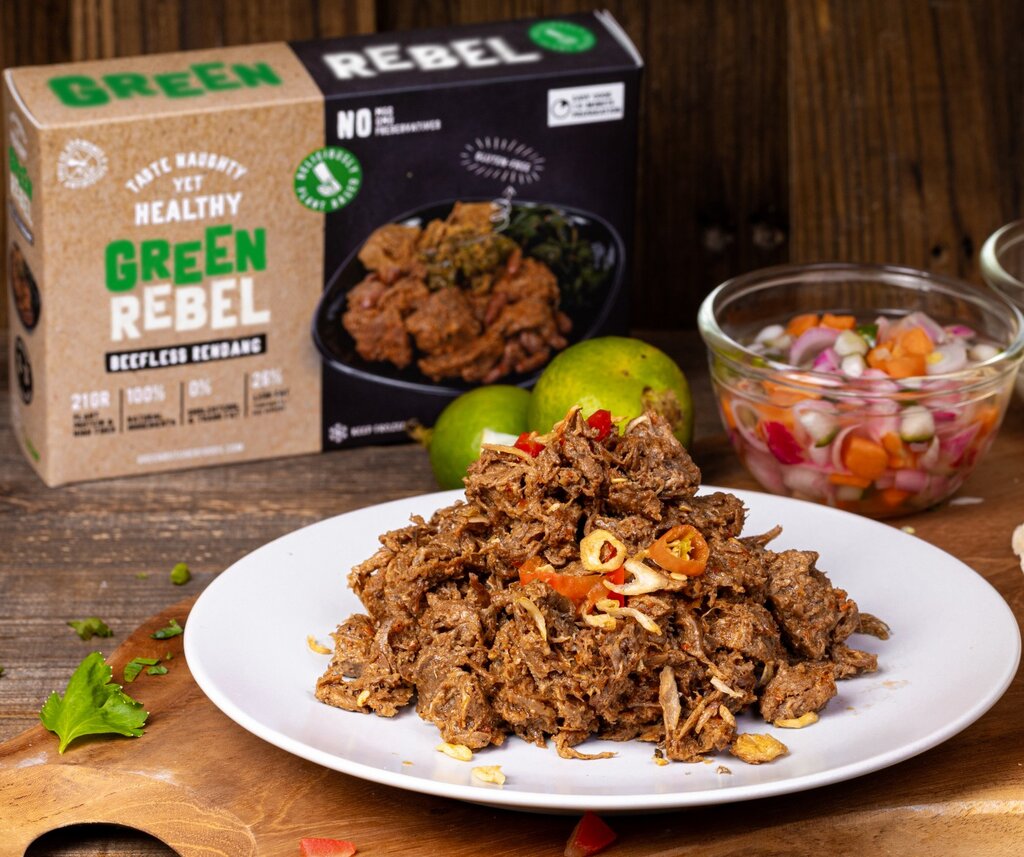 G: Green Rebel is actually a close client of mine as I had linked them up with a few talents. They actually asked me if I would be keen to offer vegan products. It was always in the back of my mind, and I thought that having the first vegan fish soup in the market would be rather refreshing.
We will be launching our vegan menu at both outlets at the end of April.
How do you juggle Queen of Wok and your full-time job?
G: An entrepreneur might tell you that he has an organised schedule every week but it never actually occurs!
I never really know what is next and am always on my feet. Having a strong belief in an objective-driven week, I set targets that I would like to hit each week and make sure that I accomplish them.
In addition, I also make use of organisation tools like Notion.
When our express store first started, I was down at the store almost every day to learn how to cook from 10 am to 10 pm! With the help of a crew now, I only head down twice a week to stand in for my employees when they are off-shift.
I spend the remaining days of the week doing headhunting.
By now, I was thoroughly intrigued as to what kept Geliang from pushing through the notorious F&B hours while juggling his full-time job.
What are your motivators?
G: It used to be money! However, I am at a stage where I would like to continuously put myself in a position where I can enable the people around me. If you find someone a good job, you do not just change their lives but also the people around them.
Anything you would like to say to budding hawker entrepreneurs?
G: The biggest takeaway for food or any other business is that there will always be another dish or product better than yours. Furthermore, others might have thought of the same concept as you.
"But remember, it is the community that you build and the relationships that you forge that will help you construct a great business."
That was my winning formula! For the first two months, I just stood outside the store and spoke to customers to get to know them better while taking their feedback into account. Do not underestimate the power of relationships, and remember that blind pursuit of money never works out.
As cliché as it sounds, Geliang truly displayed what many would describe as a "never say die" attitude. Sure, some might deem him foolish when he was hanging by a thread but as Chuck Noll says, "Good things come to those who hustle." After all, who is having the last laugh now?