We Catalyse Organisational Growth
SkillsFuture Corporate Training
Driving impactful change through creative expertise and strategic innovation for organisations seeking transformation.
Schedule a call
SkillsFuture Corporate Training
Mobile Videography & Video Editing
Video content is a huge part of our everyday lives. Videos help to attract, engage and delight viewers that could eventually be converted to potential customers. In order to achieve that, you will need a certain level of filming and editing skills. 
Mobile Photography
Make breathtaking moments last forever by transforming them into everlasting pictures and memories. Understand and practise the photo composition, lighting and photo editing process using just your phone. A handy skill to have be it for work or leisure!
Digital Art with Procreate
Join the new wave of illustrators and digital artists who are able to take their art form into a new digital medium by learning the essential knowledge, tips and trick, techniques and skills to create your best illustrations on iPads.
Sketching and Illustration
Sketching is one of the most fundamental and essential techniques in art, it is the basics of quickly drawing lines to create rough outlines of an idea, concept or design.
TikTok Marketing
TikTok is one of the newest and fastest-growing social media platform on the market today, and its ability to create and share content that could potentially go viral for users to create content for it!
Acrylic Colour Application
Learn about the basics of colour theory and its application with easy-to-follow colouring techniques. The blank canvas is your gateway to the colourful world of imagination!
SkillsFuture Corporate Training
Our Methodology
Training with a Difference
Our approach is to design a unique learning experience that helps your organisation to grow.
We are passionate about nurturing a culture of continuous learning and growth, understanding the profound connection between your company's triumph and the capabilities of your workforce.
At Hustle, we take a consultative approach to understanding your organisation's goals, and we develop practical, customisable, scalable and adaptable workshops designed to upskill and re-skill your high potential employees — creating a more diverse, committed and loyal team that will stand resilient in what the future holds.
SkillsFuture Corporate Training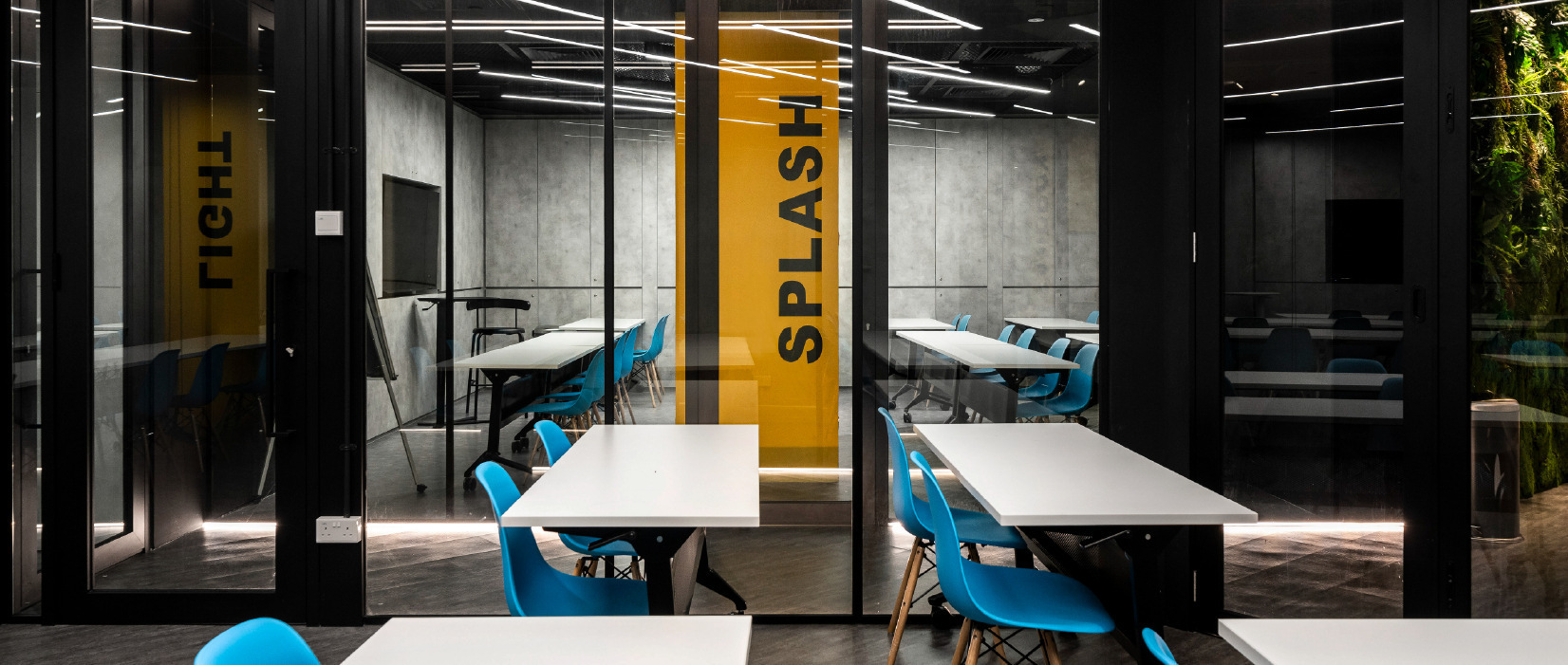 Strategic
Work with Hustle experts to benchmark skills and craft holistic programmes that target your business needs, and transform your employees' day-to-day routine—ensuring continuous improvement and organisational growth
Immersive
Empower your team with learning opportunities that will allow them to observe, create, and get hands-on with the underpinnings of the essential drivers of each industry
Experienced
We partner up with an extensive network of Subject Matter Experts (SMEs) to provide the most up-to-date content, so your workforce gets trained on the latest trends, apps, platforms, and techniques in content creation and beyond
Synergy
Our immersive programmes put participants in dynamic teams to collaboratively craft industry-level projects – honing essential skills vital for application within the organisation upon graduation, fostering a more capable and agile workforce, ready to drive organisational success
Introspect
Our feedback sessions in each class cultivate critical reflection habits in individuals and teams opens doors to amplifying experiences and outcomes, leading to continuous growth and improvement
Versatile
Train teams of all sizes anytime, anywhere with our flexible, best-in-class training solutions. Our proven engagement strategies ensure impact measurement at every stage of the learners' journey
SkillsFuture Corporate Training
CLIENT
Mediacorp
Singapore's leading media company, Mediacorp, collaborated with Hustle to have their team participate in our Adobe Premiere Pro workshop, focusing on advancing the team's video editing capabilities. By harnessing the full potential of the software, the team can continue to create visually compelling content that will continue to resonate deeply with the Singaporean audience – allowing them to continue setting new standards in the video production space. As Mediacorp continues to upskill their team, the content produced will undoubtedly shine with professionalism, strengthening their appeal and maintaining their position as the dominant force in the dynamic world of media and entertainment.
CLIENT
Tunglok Group
TungLok Group partnered with Hustle to deliver our TikTok Marketing, Photography and Videography workshops to enhance their social media presence across their prominent F&B outlets. As one of Singapore's leading F&B groups, TungLok aimed to stay ahead of digital trends and engage their growing audience with compelling content on their social media platforms. Our workshops equipped their team with advanced photography and videography skills, along with content strategy – empowering them to capture attention, broaden their audience, and solidify their position as one of the industry leaders in Singapore.
CLIENT
So Drama! Entertainment
In 2022 and 2023, So Drama! Entertainment partnered with Hustle to develop a comprehensive customised learning programme for all departments – aimed to equip participants with the essential skills to create compelling videos for TikTok, the world's leading platform for short-form mobile videos.
Engaging nearly 100 members of the team, the TikTok Basics workshop combined both theoretical knowledge with hands-on exercises to ensure active participation and practical application. On top of identifying trending content on the platform and learning the ins and outs of the app's functions, participants were taught foundational photography and videography techniques, enabling them to capture high-quality shots to create impactful visuals, to make their videos stand out amidst the sea of content on the platform.
Frequently asked questions.
Corporate Training Solutions | SkillsFuture Training Grants
How do I check my company's SFEC balance?
Using your CorpPass, login to the SFEC microsite. You will find your balance there.
What is SkillsFuture Enterprise Credits (SFEC)?
SFEC encourages employers to invest in enterprise transformation and the capabilities of their employees. All eligible* employers have been notified, and will receive a one-off credit of $10,000 – this amount supports up to 90% of out-pocket-expenses**, on top of support from existing schemes.

*Employers must meet the following conditions over the qualifying period (1 Jan – 31 Dec 2021) to be eligible for SFEC:
1. Have employed at least three Singapore Citizens or Permanent Residents (who contribute CPF) over the qualifying period 
Have not previously qualified for SFEC

Have contributed to SDL, and have an active ACRA status during the qualifying period
**Example:
If the course fee is $1000, you can utilise your company's SFEC to pay 90% ($900) of the fee.
What is Absentee Payroll?
A grant to help defray some manpower costs incurred when you send your Singaporean, Permanent Resident and LTVP+ employees for SSG-funded training. It is fixed at $4.50 per hour, with a cap of $100,000 for each organisation per calendar year.
What are the tax benefits in sending staff for corporate training funded by SkillsFuture?
400% tax deductibility on training expenses incurred. For example, every $1 translates to a $4 deduction on taxable profits, capped at $400,000.