Confessions Of An Influencer – The Grit & The Glamour
by Wei Ying  January 8, 2022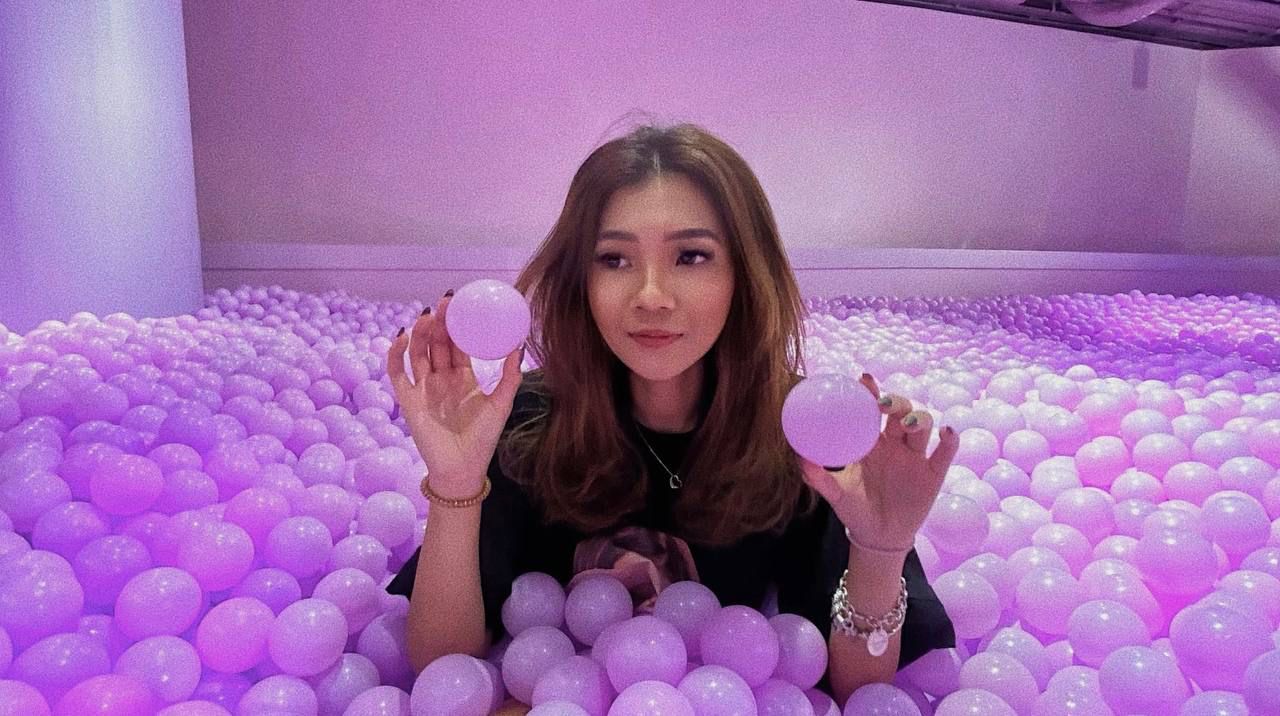 "All they do is sit still and look pretty."
The next time you decide to throw this statement around when describing influencers, perhaps think again.
The Hustle is bringing you an exclusive inside scoop on the life of a local influencer, Natasha Toh, that might change your opinion towards influencers. Well, one thing's for sure is that mine has changed.
Sitting on a couch across from me was the influencer herself, who spotted an incredibly eye-catching hot pink cropped top accompanied with a pair of grey relaxed joggers and slides.
Frankly speaking, judgemental me was already striking her off as typical and concluded that her do-up was very "influencer-like". But what am I judging based off? I think many of us are guilty of stereotyping influencers when we lack so much knowledge of their field. So, may the debunking of common myths of influencers begin!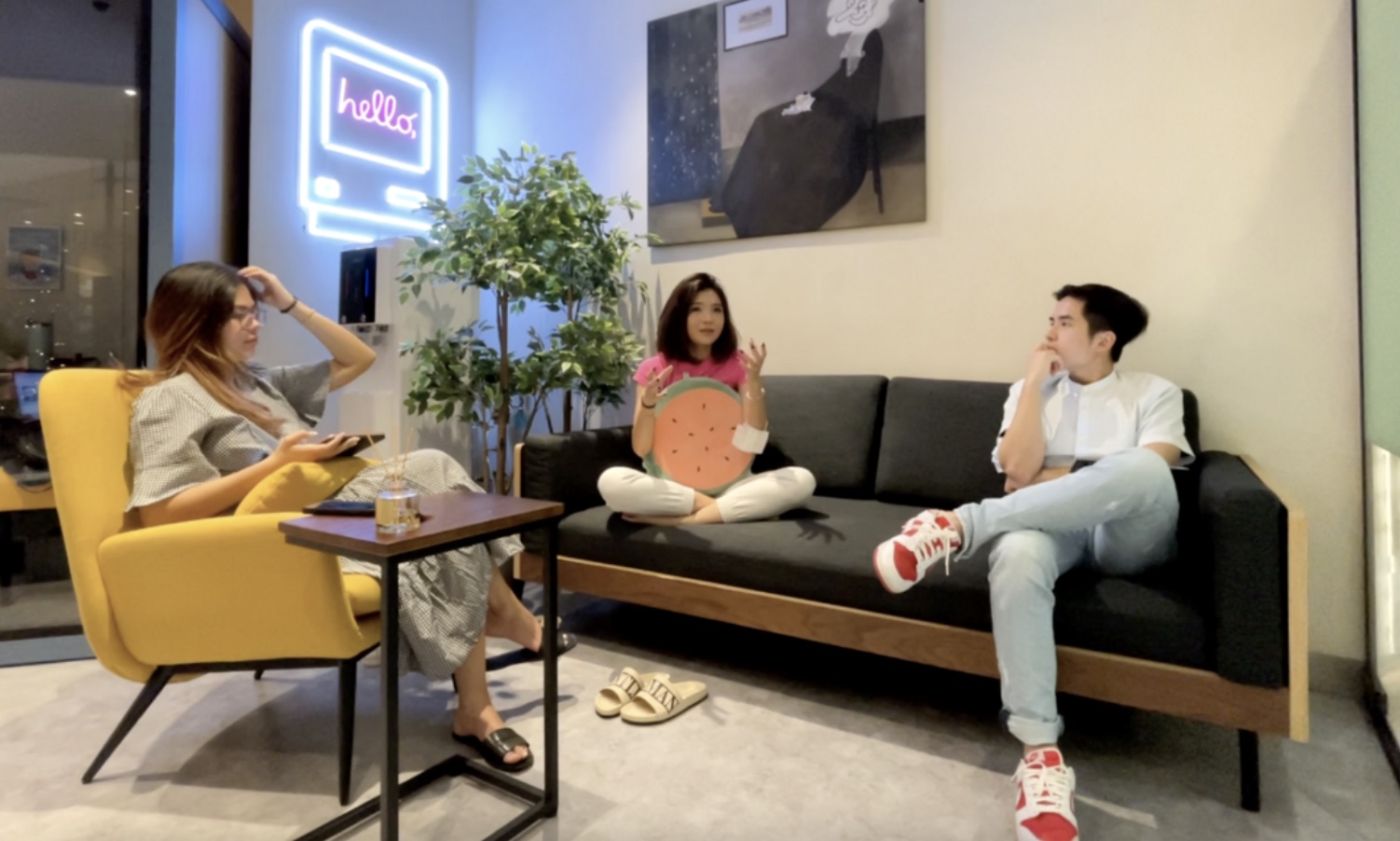 Interview session — pictured — Natasha (middle); Jasmine and Kenneth (from The Hustle)
"They have never been in our shoes, yet they are quick to conclude that what we do is a piece of cake."
Petite sized Natasha might seem coy at first, but she was just getting warmed up. When asked to share her thoughts on how many perceive her influencer job to be easy, she was everything but shy.
In a resigned tone, she admitted that she feels irritated at such comments. There is so much more behind her perfectly curated photos that people do not see.
For instance, there are days when you do not feel like caring about your appearance. So, you throw on your comfiest hoodie and saunter around in slippers.
The same does not apply to Natasha. Her usual routine consists of planning what outfits to be worn on selected days based on what the brands had sent her, which cafes to visit during her leisure time and hunting down the perfect locations for photographs. It sounds like a whole lot of coordination and planning. Sounds like a whole lot of work.
Indeed, having 16.4K followers on Instagram has its perks! When asked what is her favourite part about being an influencer, without any hesitation, Natasha's reply was — events.
She may adore the glamour of events but get this — She is not a fan of interacting with people at these events. Instead, she lives for the activities! You could tell from her fond expression as she recounted an event she had previously attended, which had perfumery and lipstick workshops.
Requests for bukkake photoshoots, used panties and socks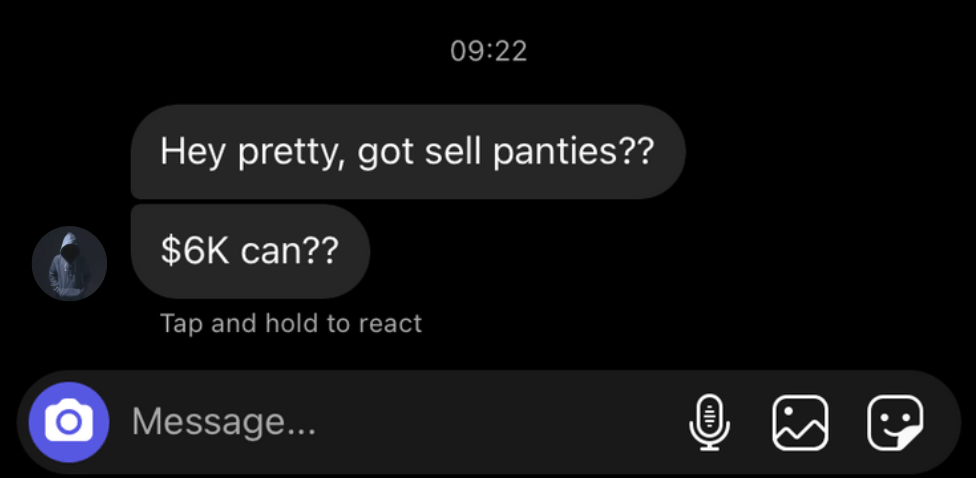 Under the radar – Influencers are prone to receiving weird requests
Besides the glitz and glamour of being an influencer, unglamorous things do follow too. Being a micro-influencer places Natasha under the radar, which increases her chances of being subjected to questionable requests
Throughout her influencer career, Natasha has been receiving many such requests. One had requested Natasha's used panties in exchange for money. Another was for a bukkake photoshoot, as seen below. Due to a lack of response from Natasha's end, the pursuer had increased his fees from $9K to $15K.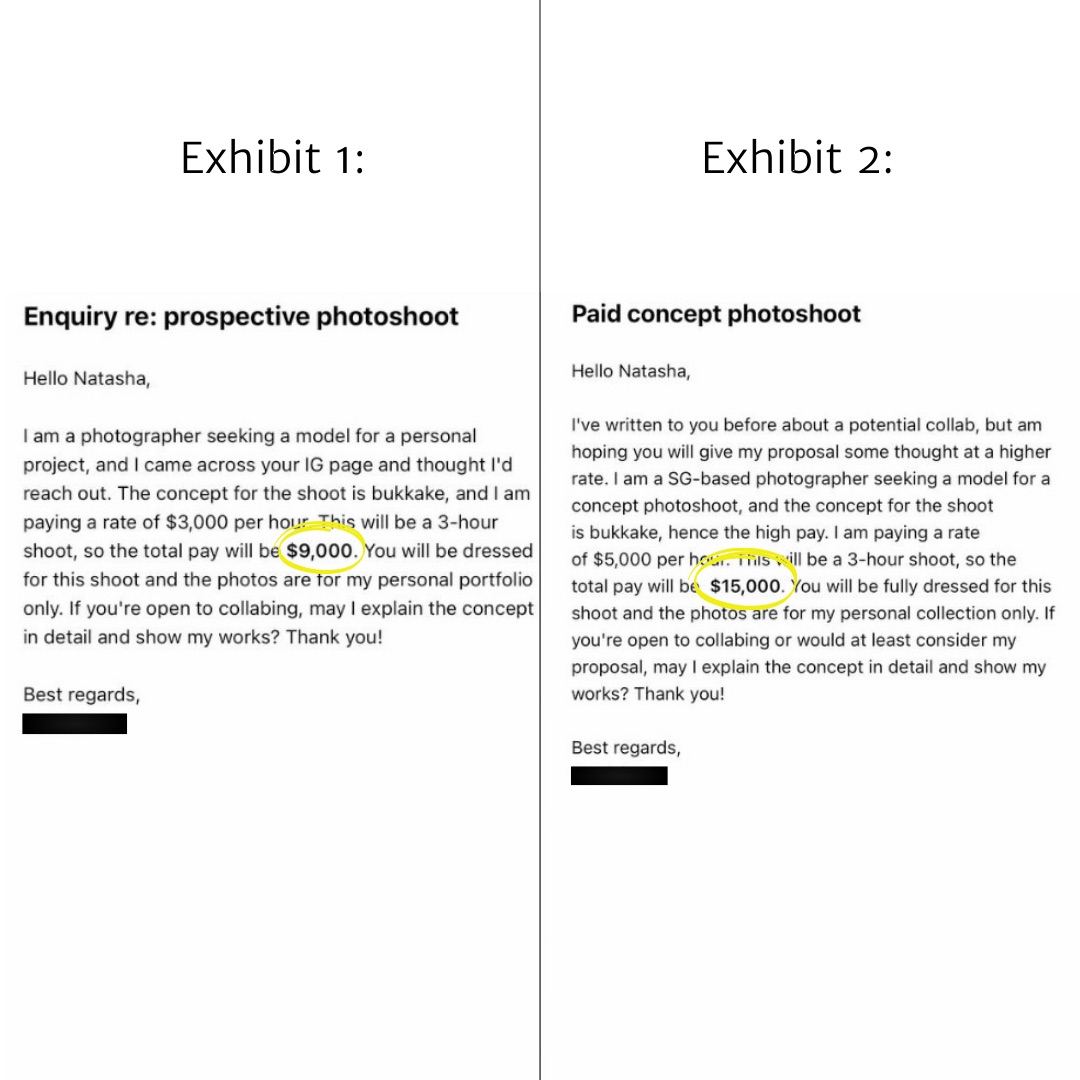 A screenshot of an email from a pursuer who requested a bukkake photoshoot
Upon hearing this, I merely blurted out what was on all our minds,
"Were you not attracted by the money?"
"Money is not everything. I care more about the reputation of my brand."
Natasha was firm. She emphasised that she always makes a conscientious effort to vet and research the brands before collaborating. Furthermore, she is adamant about standing by her morals and will not compromise for anything material.
Here, it dawned on me that my take on influencers before speaking to Natasha could not have been more flawed, as I have always thought they would be rather superficial.
The lockdown period hit F&B tenants hard. Natasha took up free gigs from previous partners out of goodwill.
One thing for sure is that Natasha has heart. When Singapore went into lockdown when COVID-19 first struck, Natasha willingly accepted free gigs from F&B companies that she had previously worked with, out of goodwill. We might think that influencers are not in the same league as us but they are still human. They can be selfless and caring despite the glamourous life that they portray on social media.
"The early bird catches the worm."
Unlike a whopping 86% of people between the ages of 13 to 38, who are willing to try out influencing, the influencer profession was never part of Natasha's plan. At just 18, she had her first photoshoot gig, which her mother had landed for her. It just so happened that her mother knew someone who worked there, who needed talent. Natasha posted a photo after the shoot, and like bees attracted to honey, people caught on quick. The gigs kept on coming after.
This was puzzling to me because how different can her post be?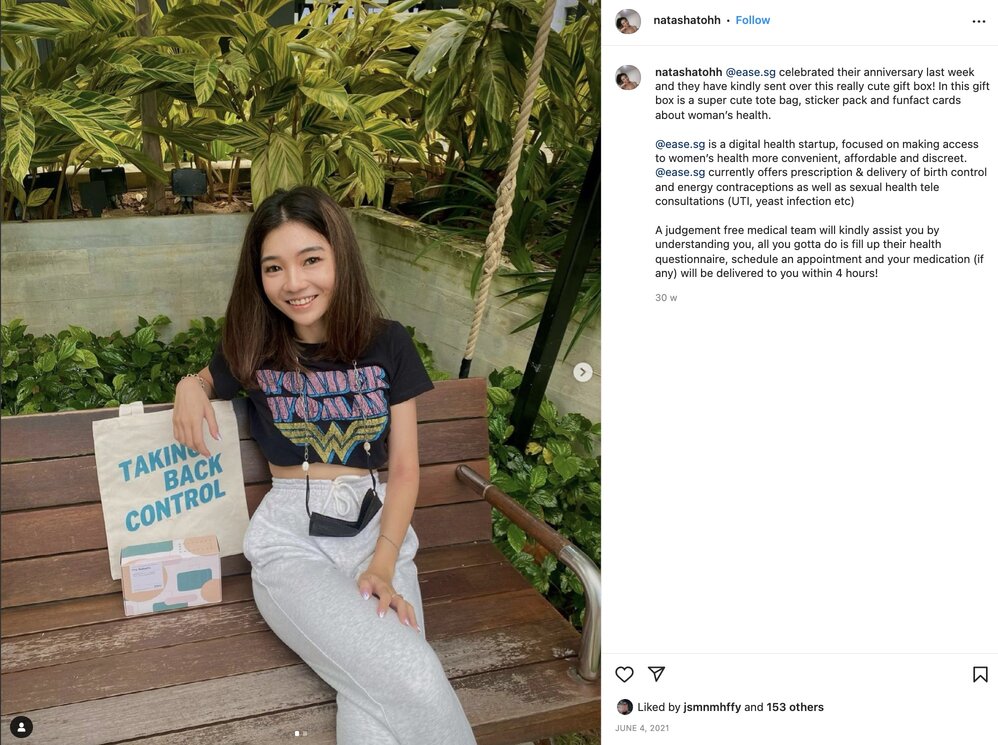 How a typical promotional post by an influencer would look like
There are mountains of such promotional posts by influencers these days on Instagram. Exactly. The keywords here are "these days". Back in the 2010s, when influencer marketing was only starting to pick up, there were not a lot of influencers in the market yet. Hence, Natasha probably stood out because she was one of the early movers. What she was doing was regarded as novel to many back then. Here is a perfect example of how important it is to keep up with market trends.
"Not all my employers understood my side hustle. They took it as moonlighting."

After having a taste of how she could potentially earn from influencer marketing, Natasha never looked back and took up gigs regularly. However, things changed once she started her full-time job at one of her previous companies.
Brands are careful about who they associate themselves with, for their reputation is on the line. Thus, Natasha had to adhere to a fixed set of guidelines. She could not offer discount codes when promoting a product or service etc. Fortunately, such limitations vary from company to company.
Her current company, where she works as a recruiter, does not impose such rules.
One would think that juggling a full-time role and a side hustle as an influencer would be incredibly taxing, but not for Natasha.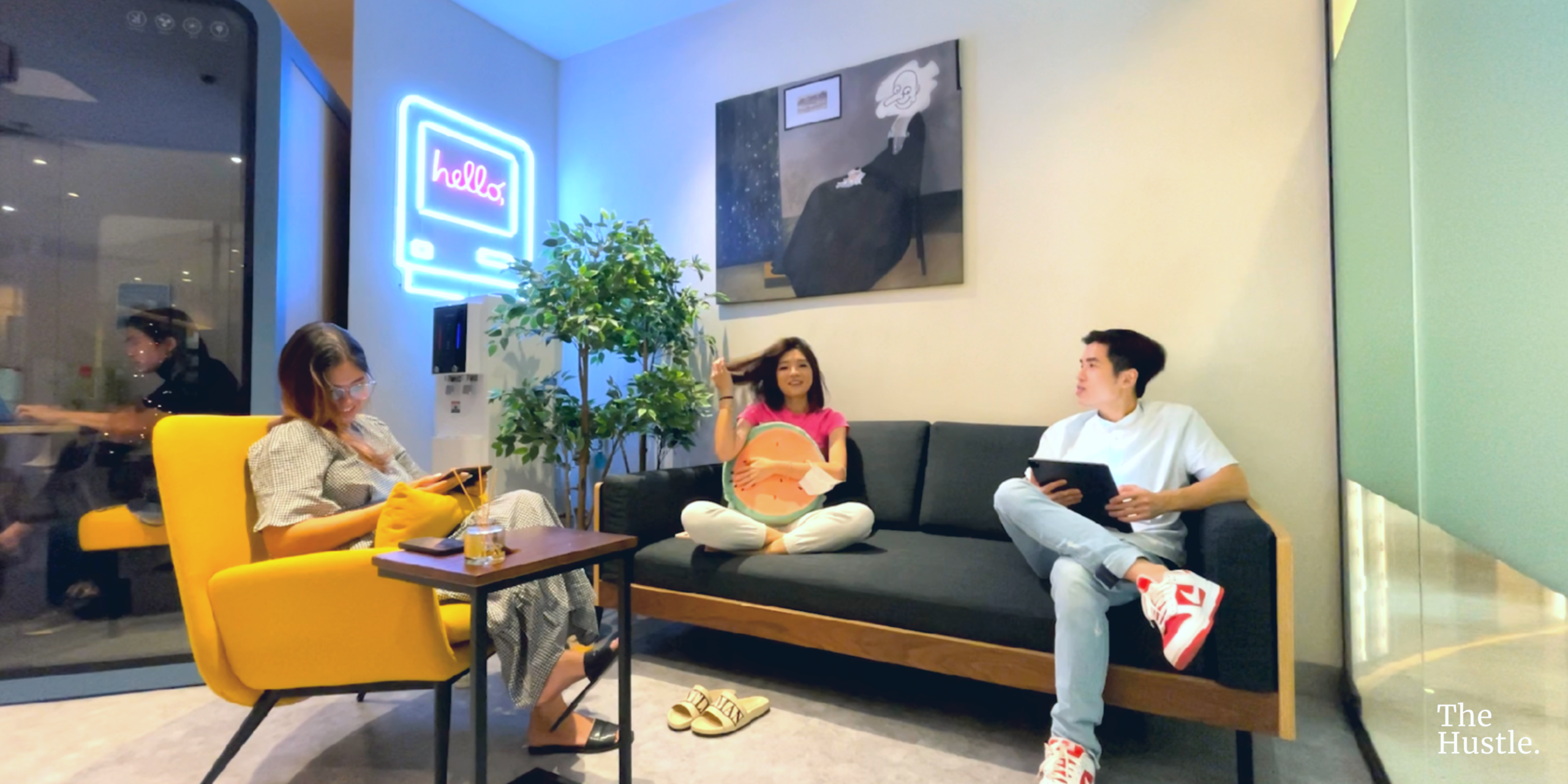 With a hair flick, while wearing an effortless smile, Natasha proudly proclaims that juggling her full-time job along with this is a breeze as she has great time management skills. Her influencer marketing only comes in after her 9–6 job. She emphasised that you will never see her mixing the two.
"Six figure salary and being an influencer do not come hand-in-hand."

With this rule that she had set for herself, she is currently taking up 3–4 gigs a month, which brings in less than 4 figures a month. Kenneth let out a genuine, "Really?" He was not the only one who was shocked, for even I thought that influencers earn way more than the sum that she had stated.
Although if you were to hustle as an influencer full-time, that would be a whole different ball game. Natasha shared that for one month, she experimented and took up every offer that came her way. The result was that she could make more than what her full-time job remunerates her.
"I would not change a thing."

When questioned if she regrets being an influencer, Natasha gave an immediate solid — no. Being an influencer had opened many doors for her. As much as it eats into her leisure time, she enjoys what she does. More importantly, Natasha is contented with the progress that she has made thus far and does not aspire for more now.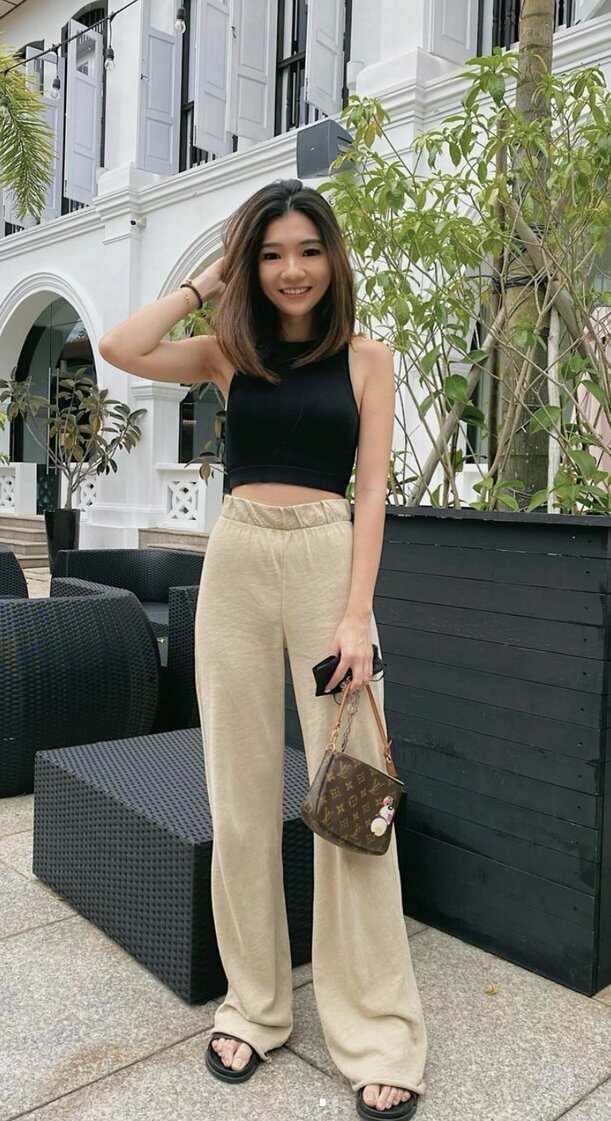 Natasha doing what she does best
Her candid opinion was refreshing to hear because many of us tend to be obsessed with "next steps". We are always trying to be one step ahead of others, but we often fail to ask ourselves if we are happy or contented?
Tik Tok is quickly becoming the preferred advertising platform for many companies. When questioned if she has plans to diversify to other social media platforms, her answer was simple. Currently, she is satisfied with Instagram being the mainstay of her influencer profession and would like to focus on that for now. Furthermore, she is unfamiliar with the video transitions required on Tik Tok and hence, has decided to drop the idea for now.
Sure, upskilling is critical if you want more and are not contented. However, if you are satisfied with where you are, no one will fault you for not pushing for more.
Hey Natasha, kudos to you for standing by what you believe in and we sincerely wish you all the best in your influencer journey! As for the rest of us, before we start getting all critical about the pictures of influencers on social media, know that it is just like any other profession that requires time and effort to be invested.
A picture is never just a picture.
Check out Esther's story on how she turned her side hustle into Singapore's first Candle Design Academy.