Side Hustler in Singapore: Digital Artist
by Wei Ying  November 5, 2022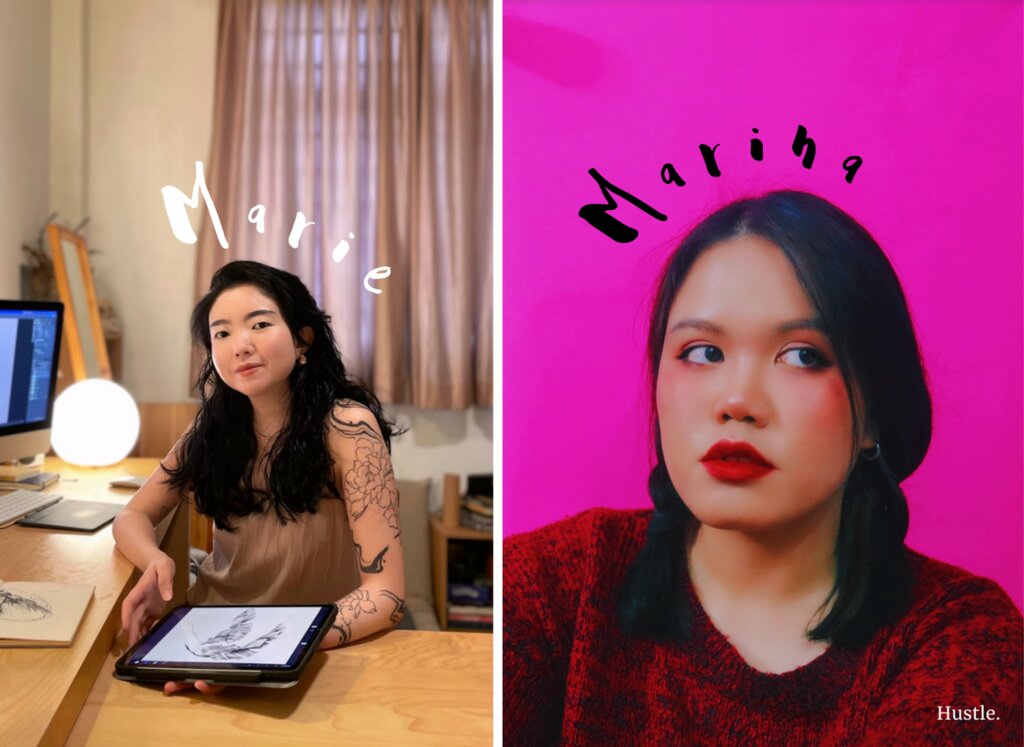 "I love that I can express myself without words and get to draw a visual narrative for people to interpret. "
Their unique styles have brought digital art to an entirely new level. Marie gravitates to integrating subtle macabre motifs against soft colour palettes, while Marina does quite the opposite. Instead, she prefers playing with stark and contrasting colours such as neon pink and dark shades while using females and serpents in her artworks.
Indeed, it all sounds quite invigorating and mysterious at the same time. Hustle had the opportunity to interview these two talented female digital artists in Singapore to discuss their journeys and the process of what it is like trying to carve a hobby and career of being a digital artist in Singapore. 
What do you love about being a digital artist/ illustrator?
Marie: Illustrating is akin to breathing for me. Not only do I love doing it, but I find it to be essential. Even if a business did not come out of it, I know that it is something that I will continue doing till my last breath. Besides the privilege of working on exciting projects as an illustrator, I particularly find joy in the illustrations I do of my loved ones and seeing their reactions to them.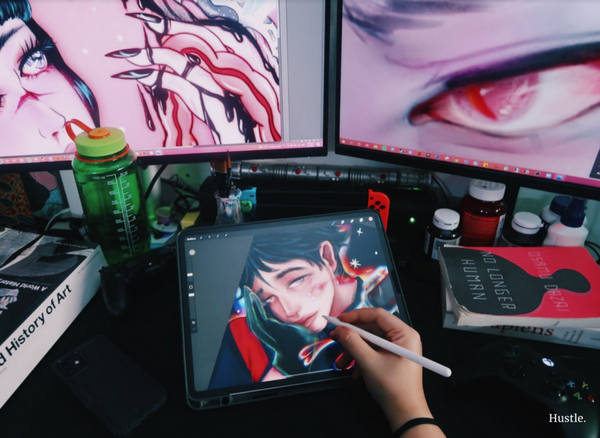 Marina: As cheesy as it sounds, I like that I can express myself without words. In the corporate world, making visual connections and communication for people to understand and relate better is rather fulfilling for me.
How did you get into digital art and what software do you use?
Marie: I got into digital art while earning my animation degree. After graduating, I specialised more in digital illustration. Although I mostly use Photoshop and Procreate, I enjoy traditional mediums and embroidery too!
Marina: (With a laugh) I had one of those typical art student journeys, where I first started as a traditional illustrator using paper and pen mediums. About four years ago, I began dabbling in digital art after receiving an iPad, and that was the start of my transformation to being a full-fledged digital artist. However, I do miss working on a traditional medium too. I use both Photoshop and Procreate.
It does seem like our two artists are highly fond of traditional mediums, and we think we know why. It can be highly therapeutic to hand draw on a canvas. That is exactly one of the reasons why Hustle's Acrylic Painting workshop is such a hit among our students!
"As with most freelancers, starting out was tough. "
Did you encounter any obstacles in your journey toward becoming a digital artist? If so, what and how did you overcome them?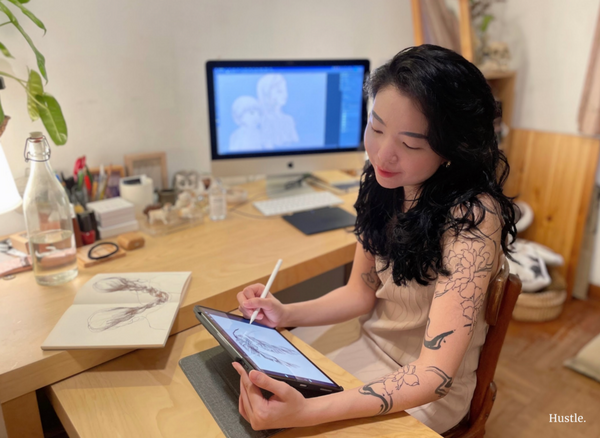 Marie: Finding what worked for me and building my portfolio as an illustrator while managing clients were some of my initial struggles. Since then, I have been learning to be more selective of the projects I take up as I am somewhat of an idealist and always want to take on every project that comes my way. However, I learnt it the hard way, as I get burnt out, which prevents me from giving my best to my teaching and projects.
"There is this stigma around digital art, that it is not considered as real art."
Marina: I feel that it takes just as much skill and technique as traditional art and that many digital artists are also skilled in art using traditional mediums. There is not much to overcome since it is just an opinion, and as long as I get to feel what I had intended to with the art that I produce, it is all good!
Obstacles aside, Marie and Marina are also superhumans juggling multiple roles.
"Juggling multiple roles will always be challenging,
but I am learning to plan early,
as it helps me manage my time more efficiently."
Is being a digital artist/illustrator your full-time role? If not what are your other hustles?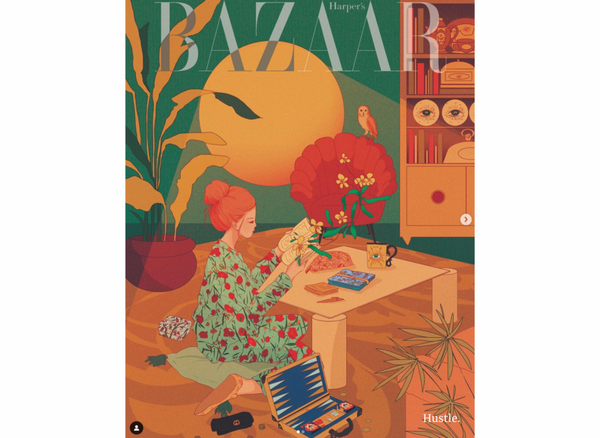 Marie: Besides being a freelance illustrator, I am also a lecturer teaching illustration with animation at the Nanyang Academy of Fine Arts. (NAFA)
Marina: It used to be my full-time job, but I have since taken up a creative field in the gaming industry as my full-time role. However, I am still thankful that illustration is still a part of my life!
Where, who, or what do you seek inspiration from for your illustrations?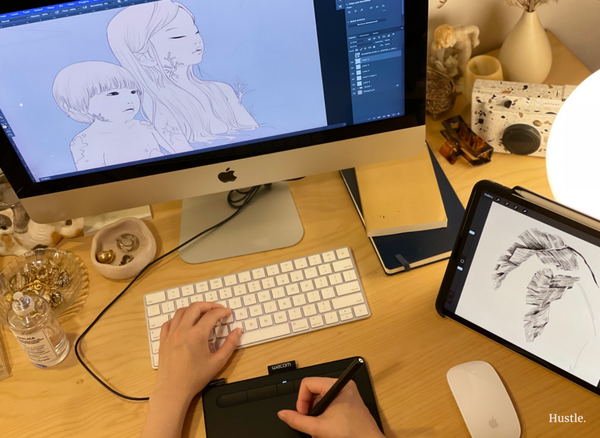 Marie: Everything! From daily life or faith to films, books, and songs. It could also be from precious moments with loved ones and heartbreaking seasons of pain and loss. For artists, James Jean has been a constant inspiration for me, along with film directors such as David Lynch.
Marina: I usually find inspiration from real-life experiences, cultures, games, and films. They could be the characters, concept art, cinematography, or art movements like Romanticism and Neoclassicism. However, there are always a couple of topics and themes that will constantly pique my interest.
What are some of your most memorable projects and why?
Marie: "The Boy in the Whale Suit" was my graduating animation project I did with two friends, which later became a children's book. It will always hold a special place in my heart. Not only was it a personal story of mine, but also because it was a collaborative project with good friends!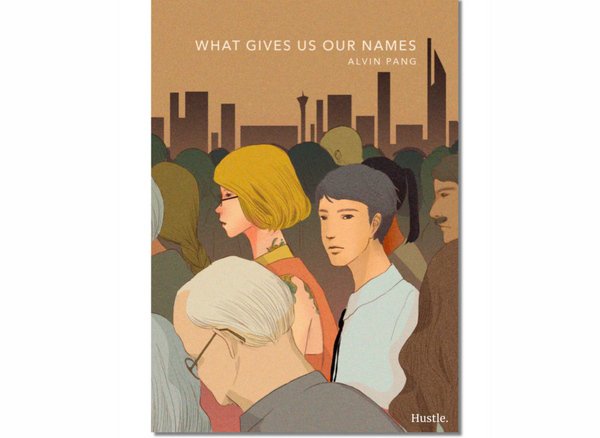 Illustrating "What Gives Us Our Names?" by Alvin Pang was also extra memorable for me. The project gave me the freedom to explore my illustrative voice and opened many opportunities for me to illustrate more narrative works.
Marina: It would be when I had an art workshop with Apple Singapore and a film project I did with my friends about a 'local' ghost called Goli Man. Both were fun and scary but incredibly fun in different ways!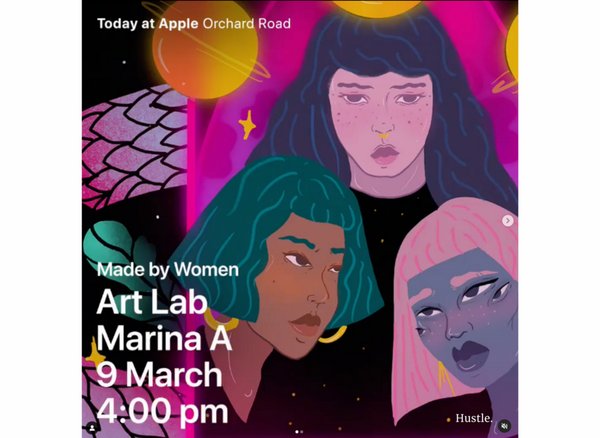 Marina's collaboration with Apple
Well, it is evident that working with friends on projects can be immensely impactful and much more pleasurable. 
Keep drawing. Having an online presence and networking are also important. Lastly, learn to enjoy the process.
What advice would you give to aspiring digital artists?
Marie: On the technical side, keep drawing, learn by watching your favourite artists talk about their techniques, read books to gain various perspectives, and watch film analyses on character and set designs. Take advantage of the wealth of information readily available on the internet.
Online presence and networking are essential too. Often, it is not just what you can do but who you know. Although it is not a popularity contest, forming or being part of a creative community is critical, not just for opportunities or learning from one another but also for emotional support. Sometimes, it can feel like we are alone dealing with tricky projects or clients, but being in a like-minded creative community can make a huge difference!
Lastly, as cliche as it sounds, learn to enjoy the process. It was advice a lecturer gave to me in the past, which I am still learning to do today. 
In a day and age where we are constantly consuming endless types of utterly polished media, it can be extremely overwhelming and daunting to try new things. Nonetheless, never stop being inspired by the little or big things in life, and channel that creative energy into your work.
Always practice your fundamentals, do what makes you feel great, and post the dam* art!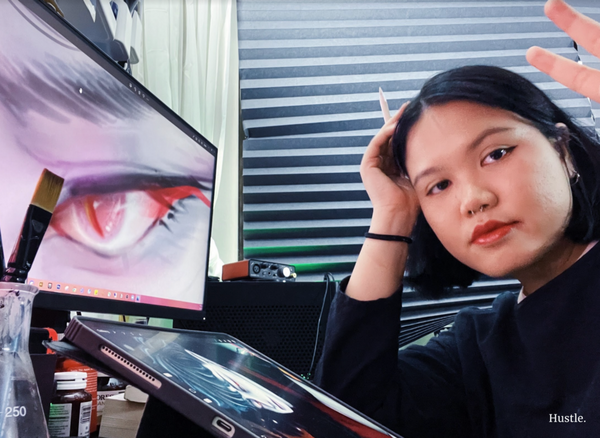 Marina's advice —" Just post that work of art!"
Marina: So what if you do not know everything about art? There is nothing wrong with that. As artists, we are still exploring while growing new skills and seeking out new inspirations. Thus, feel free to change your style of art till you land on something that you like. Most importantly, keep an open mind for critiques and opinions.
And that sums up the journeys of Marina and Marie as digital artists in Singapore. If you feel inspired to take up illustrations, Hustle has a Digital Art workshop that would be perfect for beginners. Our workshop also covers Procreate, a software utilised by these two dazzling artists or Infinite Painter.